Precision measuring in the environment of machine tools is a tough job. The most important component in providing the ultimate in both reliability and precision is a rack and pinion linear encoding device.

A Rack and Pinion Linear Encoder or Resolver System incorporates lengths of precision measuring racks; an enclosed channel; and an incremental rotary encoder or resolver with an integral pinion. Our racks are ground with a crown which reduces the need for precision pinion alignment. As motion occurs, the pinion rotates along the racks causing the encoder/resolver contained within the sealed housing to rotate. This rotation reflects the change in linear positions, and the velocity is determined by the frequency of pulses coming from the encoder/resolver.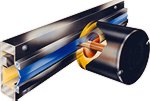 The channel is a piece of steel, physically connected to the machine. Constructed of machine steel, the channel has the same thermal co-efficient of expansion as machinery and will expand and contract at the same rate. All channels can be joined to give unlimited lengths. The protective seals are fitted in one piece after all installation work is complete. This is suitable for pinions with 1"/rev. and a total reach of 1", such as BEI Model H25E.
The precision racks are hardened and ground #416 Stainless Steel. The racks are mounted with pitchline on the neutral axis of the channel and laser calibrated to avoid cumulative errors. The rack, mounted to the channel, is surrounded by seals over the entire length of travel to prevent contamination. As as additional precaution against particles adversely affecting performance, the rack's teeth are facing down. If any contaminants do penetrate the lipped seals, they will fall harmlessly to the bottom of the housing or are wiped away by the wiping action of the pinion and rack teeth.
The pinion is hobbed to AGMA Q15 integral in the shaft of the rotary encoder/resolver. The pinion is lightly spring loaded against the rack to keep the total backlash under .0001 inches. The pinion is constructed of a metal softer than the ground rack to allow the pinion to be honed to the rack pattern. Once matched to the rack pattern, there will be negligible wear on the pinion due to the light preload and minimal encoder inertia.